NEWS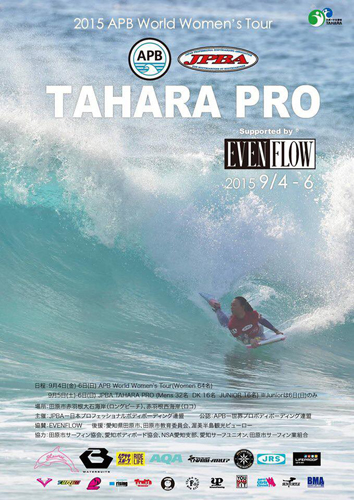 ABP world tour returns to Japan!
"Tahara Pro supported by Even Flow"
The event will be held in the wave rich region of Tahara and offers a 4 Star rating for the girls chasing the 2015 APB World Title.
The event will be dual-ranked on the 2015 JPBA series and will also feature a Men's & DK division (only JPB rated)
Date: September 4,5&6th ,2015
The Venues:
LONG BEACH
or
LOCO POINT
Downloard an entry for at
http://apbtour.com/wp-content/uploads/2015/08/tahara_entry_form.pdf
The Accomodation:
http://www.taharakankou.gr.jp/spot/?Mode=search&Sct1=050
The Airport:
CENTRAIR
is the closest airport
The drive to the contest area is two hours
The Promoter:
MIC KATO
More info:
JPBA Office
tel/fax. 81-470-87-9740
email
info@jpba.org
Attention to Competitors.
For the entry for APB TAHARA EVENT.
PLEASE send us the entry sheets form by FAX or E-mail.
For the CHECK-IN is at BEACH MARSHALL(Contest AREA) on September 3rd.
Time will be between 3PM till 5PM.
For the PAYMENT.
We accept CASH ONLY for the payment of entry.
WOMENS $200 Usd, APB Membership Included